Pungo Ridge Outlet
I'm sure there are many of you, like myself, who were customers of Pungo Ridge in Creeds, Virginia. As of December 29, 2019 they closed their showroom, but continue to be an online retail store.
I am extremely humbled to announce that Pungo Ridge has chosen Copper Bit Boutique as the outlet of their online store. I have taken on their showroom inventory, and will continue stocking the most loved brands.
Below are available for pick-up and/or delivery*!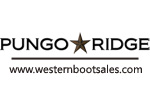 * Please note that inventory and quantities may change without notice. You may call or email with any questions you have.